Quick Uninstall Feature
Sometimes it happens that you do not need some program any more and you want to remove it.

There are two well-known ways to uninstall a program. The first way is going to "Control Panel -> add or Remove programs" - it is the foolproof method, but it takes time.

Another way to uninstall a program is to find the necessary program in the Start menu and start its Uninstall.

Unfortunately, not all programs place the Uninstall option into the Start menu. But it is no longer a problem. Just right-click the name of the program in the Start menu and select Uninstall from the context menu. The Quick Uninstall module will find the uninstaller of the selected program and start it.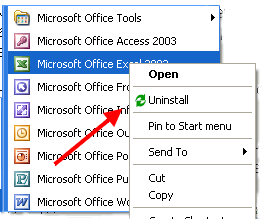 You can also use this method with all shortcuts, for example, on the desktop or on the Quick Launch panel.

Note: In rare cases Quick Uninstall may fail to find the uninstaller. It happens when the program you want to uninstall uses some nonstandard uninstaller or it is a part of the system.