Start Menu Icon Wizard
When you open the Start menu, you see only the names of programs and you have to look through the whole list to find the necessary item.
Our "Icon Wizard" will help you to find and run the necessary program much faster using the natural ability of human brain to recognize bright visual images. If you assign an icon to some menu item, you'll immediately notice it in the list.
After you assign icons, you menu can look like this:

To specify an icon for a menu item yourself, you should select the item in the list and specify the path to the necessary file. It can be an icon from the standard system image list or an image at your choice. You can restore the original view of the menu item by clicking the "Default" button.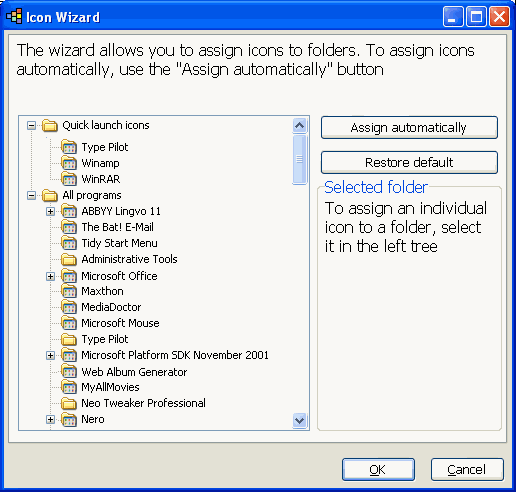 The wizard also has an automatic mode. If you click the "Assign automatically" button, the program will look through the entire Start menu and select a proper icon for each item. If you don't like the result of the program's work, you can restore the original settings by clicking the "Restore default" button.